2013 Y-90: The Advanced Course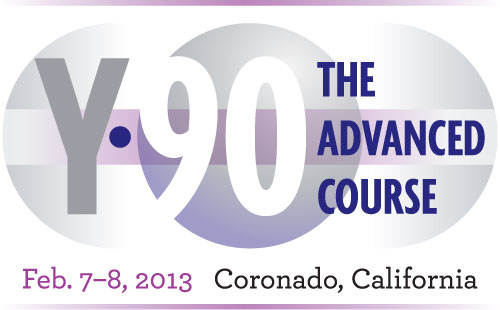 2013 Y-90: The Advanced Course
February 7-8, 2013
Coronado Island Marriott Resort & Spa
Coronado, CA

Online Registration
Online registration is now open. To ensure that you receive the appropriate registration rate, have your SIR login and password handy.

Program and Brochure
Click HERE for the program, or HERE for the brochure

Program Coordinators
Matthew S. Johnson, MD, FSIR
Indiana University School of Medicine
Carmel, IN

Charles W. Nutting, DO, FSIR
Radiology Imaging Associates
Lone Tree, CO

Riad Salem, MD, MBA, FSIR
Northwestern Memorial Hospital
Chicago, IL

Faculty
Click HERE to view the 2013 Y-90 faculty.

Course Description
This one-and-a-half-day course - designed with lectures, panel discussions, and case based discussions - will offer the most in-depth, comprehensive and challenging curriculum available for interventional radiologists, covering all aspects of radioembolization. Topics to be discussed include challenging anatomy, therapy for specific primary and secondary hepatic malignancies- including radioembolization in combination with other therapies, retreatment, postprocedural care and f/u, and management of complications.


Educational Objectives
Upon completion of this course, the attendee should be able to:
1. Describe advanced radioembolization techniques
2. Identify therapies used in combination with radioembolization for hepatic malignancy
3. Explain advanced dosimetry and treatment concepts
4. Summarize a state-of-the-art literature review of Y-90 radioembolization literature


Target Audience
This course will provide advanced and focused education for past Y-90: Are yoU ready? attendees and other experienced practitioners who seek to refine their knowledge and skills in radioembolization. It will be most beneficial to previous AU Y-90 course attendees or physicians who are well-versed and comfortable with Y-90 procedures and participate in an active radioembolization program. The course will be advanced in nature and include high level discussion and active audience participation with experts, panelists and faculty. Come ready to participate with cases and to challenge the experts.


CME Accreditation
The Society of Interventional Radiology is accredited by the Accreditation Council for Continuing Medical Education (ACCME) to provide medical education for physicians.
SIR designates this live activity for a maximum of 12.5 AMA PRA Category 1 CreditsTM. Physicians should claim only the credit commensurate with the extent of their participation in the activity.

Hotel Information
Coronado Island Marriott Resort & Spa
2000 2nd Street
Coronado, California

For hotel reservations, please call 1-800-228-9290 or (619) 435-3000 and reference the SIR Advanced Oncology Meeting. The room rate is $170 per night. The hotel reservation deadline is January 16, 2013.


Y-90 Meeting Hub
This online resource is exclusively for course participants. The Y-90 Meeting Hub will provide you with the syllabus, course agenda, presentation handouts, reference materials and other resources, as well as give you the opportunity to engage with other attendees, faculty and industry partners. Internet access will be provided in the meeting room to access the Web site, so we encourage you to bring your laptop or tablet device. Remember to bring the power cord for your device. The Y-90 Meeting Hub will be available to attendees for one year after the meeting.
Challenge the Experts
This course will provide attendees with a unique opportunity to interact with experts in Y-90. Lead by expert facilitators, course content will include challenging anatomy, in-depth discussions on the most commonly encountered disease conditions (HCC, CRC, NET, breast, cholangio, melanoma). Other advanced topics will include radioembolization in combination with other therapies–retreatment, postprocedural care and follow up, and management of complications.
Since attendee participation is an integral component of this course, all attendees should prepare their own cases to challenge the experts! Show your own case that is actively in the stages of Y-90 workup! Each section will include dedicated attendee case presentation time in order to maximize the learning experience. Use this template to prepare your cases to bring to the meeting and view a sample case here.
Supporters
SIR thanks and recognizes the Y-90 Meeting Benefactor Level Supporters:
SIR Policies
SIR Participation Policy
Society of Interventional Radiology staff, members, nonmembers and event participants must be treated with respect in all interactions (including but not limited to in-person, telephone or via written communications). All agree to conduct themselves in a manner appropriate for health care professionals. Staff offices and the press room at meeting sites are reserved for official business only; food and beverage service in these areas are reserved for staff and volunteer members. If a staff member believes that these rules have been violated or acceptable social decorum has otherwise been breached, the staff member shall contact one of the designated individuals in the volunteer leadership to help with the situation. If the member in question believes that he/she has been wrongly accused of inappropriate behavior, he/she shall also contact the designated physician leadership to help with the situation.


SIR Photo Disclaimer
Registration and attendance at, or participation in, the Society of Interventional Radiology's meetings and other activities constitute an agreement by the registrant/attendee to SIR's use and distribution (both now and in the future) of the registrant's or attendee's image or voice in photographs, videotapes, electronic reproductions and audio tapes ("images/recordings") of such events and activities. Registrant/attendee acknowledges and agrees that SIR's use or distribution of such images/recordings may be worldwide and in any medium; that SIR may identify registrants or attendees in such images or recordings; and that registrants/attendees have no right to any compensation for such uses.